Provided here is a database of expression patterns of C. elegans promoter::GFP constructs. A text description of the observed pattern is provided, indicating the stage(s) and tissue(s) in which GFP is expressed. Also available for some strains are the corresponding 2D and 3D images. Investigators may browse the entire list, search by gene name, tissue, stage, and pattern. Search results may be downloaded in .csv and .txt formats.
All of the strains in the expression pattern database are displayed in the browse page. The records are organized by gene; information such as locus name, genomic location (WormBase), the presence of images and videos, and the actual expression pattern are shown in a tabular format.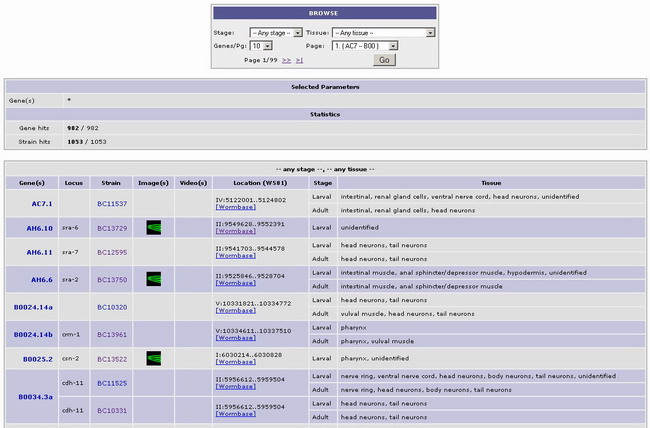 The browse bar enables the user to filter the strains by the stages and tissues in which they express GFP. One may also select the number of genes displayed per page, or to navigate to the desired set of genes.
The result bar shows the currently selected parameters (* for all genes/strains), the number of gene hits, strain hits, and total genes and strains in the database.

Display Options:


The "Gene Search" page enables a user to search for one, or a set of, promoter::GFP constructs by the cosmid or locus gene name. The search may be refined by a number of parameters such as the availability of images, videos, or whether expression of GFP is observed in the embryo.


Search Options:
A list of genes may be copied and pasted into the "Enter genes or loci" box. Also, partial gene names and wildcards(*) may be used.
Show Field: Select the appropriate check boxes to select the fields that are to be displayed in the Results page or text file. See descriptions below.
Refine Search: Limit the search results based on restrictions specified for the corresponding fields. For example, checking the "Images" box and choosing "Yes" from the corresponding pull-down menu will display only those strains for which images are available.



Description of Fields to display in the Search result


The "Pattern Search" allows the investigator to find strains which express GFP with a specified "pattern." The pattern search first requires the selection of one or more tissues of interest (Figure 1).

Clicking "Next" will bring you to a page that allows you to specify the expression pattern you are searching for (Figure 2).

The selection boxes are organized in a grid, each cell representing a tissue/stage combination. There are four options that specify whether the pattern should include (YES) or exclude (NO) a particular tissue/stage combination.



Figure 2





Figure 1